05 FEBRUARY 2023 | EVENTS
FUZE FITNESS PARTY MINI EVENT
On 5th February 2023, fitness enthusiasts from all over the region gathered at Centre Point Sabah for the highly anticipated Fuze Fitness party mini event. The event, sponsored by Eureka Drinks, promised a high-energy workout session, good music, and refreshing energy drinks to keep participants going through the day.
The event was hosted by Fuze Fitness, a fitness center renowned for its innovative and intense workouts. For those unfamiliar with Fuze Fitness, it's a full-body workout program that combines strength training, cardio, and high-intensity interval training to burn calories and build muscles. The fitness center has made a name for itself by providing a fun and challenging workout experience that caters to all fitness levels.
As expected, the Fuze Fitness party mini event lived up to the hype, with participants showing up in large numbers, ready to break a sweat and have some fun. The atmosphere was electric, with participants decked out in their workout gear, ready to take on the challenging workout routine.
The workout session, which kicked off with a warm-up, was designed to push participants to their limits. The trainers led the participants through a series of exercises, including jumping jacks, squats, lunges, and push-ups. The routines were intense and challenging, but the music provided a good distraction, keeping participants motivated and energized. As the workout session came to an end, participants were treated to a refreshing Eureka Drink, an energy drink that is the perfect companion for any workout. The drink, which is made from natural ingredients, provided a much-needed boost of energy and hydration to help participants recover from the workout.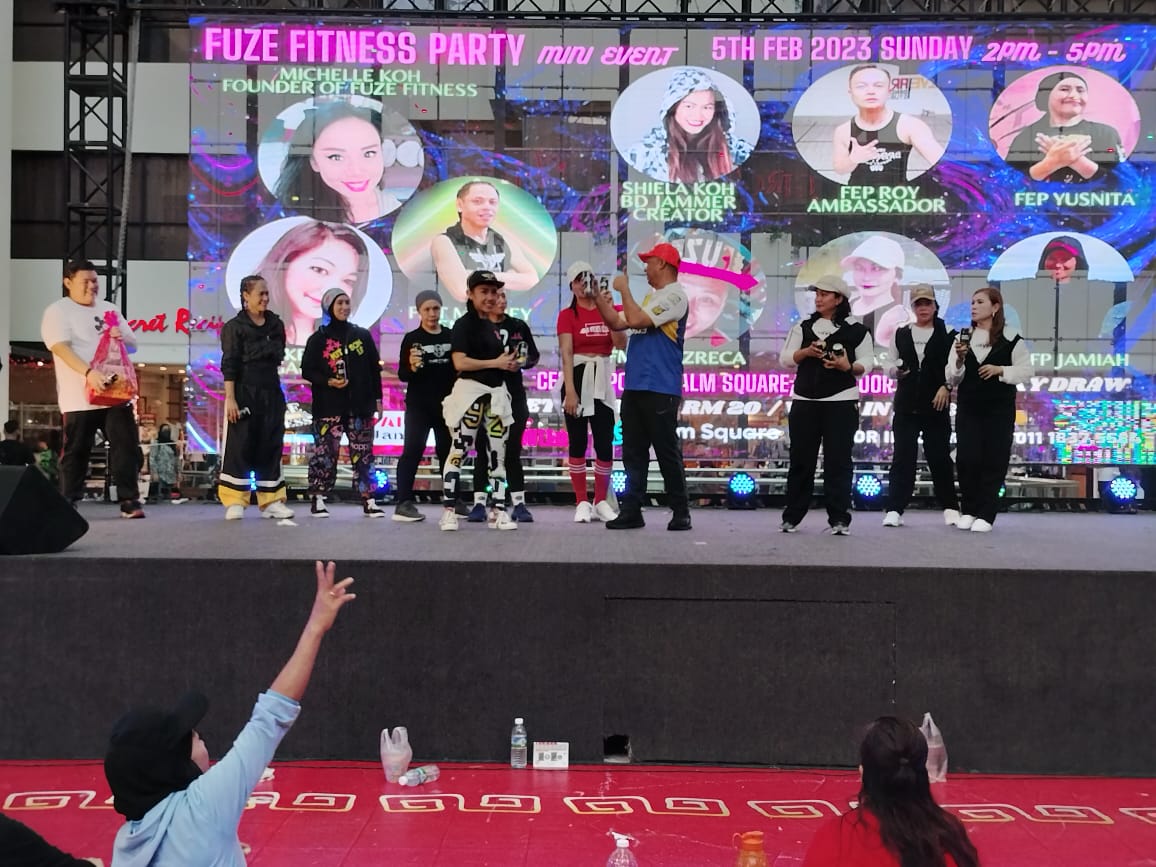 After the workout session, participants mingled and socialized, sharing their fitness journeys, experiences, and tips. The event provided an excellent opportunity for fitness enthusiasts to connect and network, forming new friendships and partnerships.
In conclusion, the Fuze Fitness party mini event held at Centre Point Sabah on 5th February 2023 was a huge success, providing participants with a challenging and fun workout experience. The event's success was thanks to the dedication of the trainers, the support of the sponsors, and the enthusiasm of the participants. We can't wait to see what Fuze Fitness has in store for us in the future, and we hope to see you at the next event.